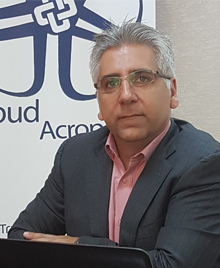 Kiarash Kiazand Ph.D.
Chief Executive Officer (Member Of Board)
With over 22 years of experience in the filed, Kiarash has grown to be a leader in the Information Technology Services from the ground. He started as a software developer and mathematic modeler in the petrochemical fields in France (Istitut Francais de Petrol), before moving to the US. Then he developed an entire corporate quality system for a multinational BPO over 7 years. Back in the middle east, he created and managed a company to provide procurement and managed services to a telecom service provider of 30 million subscriber. Finishing that project, he became an international Senior Principal ICT consultant for IT in telecom operators. Under his belt, he has built till now 19 data centers, and directly operated 4. He has certifications in data center design, IT operations, Networking, Storage and server management, software development, business development and strategy. As the project starter and business developer of Cloud Acropolis, he knows bits and bites of this business and this company. The managing director role is a perfect fit for him.He brings a lot of expertise into the country and has for task to bring up the IT services with international standards in Oman. His focus in to truly introduce, implement and monitor SLAs on all services, end to end, for all customer.